Al een flink aantal jaren dragen studenten bij aan onze Deltares projecten op het gebied van zoet-zout grondwater in het kustgebied. Soms met resultaten die niet spectaculair zijn, soms met schitterende resultatenleidt dit mooie resultaten, peer-reviewed artikel waardig! Alles bij elkaar kunnen we wel zeggen dat we : we zijn een groot voorstander zijn van het begeleiden van studenten, via voor een stage of afstudeeronderwerp! We hebben reeds - of afstudeeropdrachten. De laatste jaren hebben we studenten gehad van verschillende pluimage: universiteiten (WUR, UU, VU), hogescholen (Zeeland, Larensteijn) en instituten als UNESCO- IHE. Ook buitenlandse (PhD-)studenten waren welkom (Universiteiten van Gent, Firenze, Bologna, Roma (La Sapineza)Sapienza), Aken, Teheran, etc.).
We hebben een flink aantal onderwerpen op de plank klaar liggen, van numeriek modelleren tot en met water systeem analyse en monitoring, of een combi. Neem contact met ons, of met de desbetreffende studenten. Tot hoors!
Voorbeelden:
2006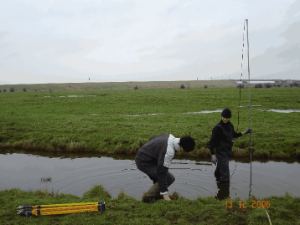 Image Added
Image Added
Image Added
Image Added
Image Added 
Image Added
Enkele onderwerpen:
Freshwater management techniques as a bridge between water demand and supply in the Mekong Delta, Vietnam (including fieldwork provinces Ben Tre or Tra Vinh)

Analysis of upconing of saline groundwater under deltaic areas (numerical study)

Effect of model parameters (e,g. solute solvers, grid convergence) on variable-density groundwater and salt transport benchmark cases (e.g. Henry, Hydrocoin, upconing; numerical analysis using iMOD-SEAWAT)

Fresh groundwater resources management at a farmers level in the province of Zeeland, The Netherlands: setting up robust web-based clipping tools; a modelling study

Assessing submarine groundwater discharge along coastal stretches: a global analysis

Setting up a 3D variable-density groundwater flow model simulating salt water intrusion in a deltaic area: possible cases: the Bengal, Indus, Po, Yangtze, Pearl river deltas
info: gualbert dot oudeessink at deltares dot nl
Afstudeeronderwerpen sinds 2005:
2020
2019
2018
2017
2015
2014
2013
2012
2010
2008
Tommaso Letterio, Uni of Firenze, Italy
2007
2010
Valentina Marconi, Uni of Bologna, Italy, Characterization of shallow fresh groundwater lenses in the Province of Zeeland with 2D geo-electrical surveys

Vesna Tripkovics, UNESCO-IHE, Salt water intrusion in The Province of Zeeland, the Netherlands - water system analysis and numerical modeling
2006
2005
Beatrice Giambastiani, Uni of Bolgona, Italy, Saltwater intrusion and water management in the unconfined coastal aquifer of Ravenna (Italy): a numerical model

J. Hydrol. 340, 1-2, 91-104, 2007

.