Overzicht   Inleiding   Projecten   Publicaties   Download   Stage   Contact
Al een flink aantal jaren dragen studenten bij aan Deltares projecten op het gebied van zoet-zout grondwater in het kustgebied. Soms leidt dit mooie resultaten, peer-reviewed artikel waardig! Alles bij elkaar: we zijn een groot voorstander van het begeleiden van studenten, voor een stage- of afstudeeropdrachten. De laatste jaren hebben we studenten gehad van verschillende pluimage: universiteiten (WUR, UU, VU), hogescholen (Zeeland, Larensteijn) en instituten als IHE. Ook buitenlandse (PhD-)studenten waren welkom (Universiteiten van Gent, Firenze, Bologna, Roma (La Sapienza), Aken, Teheran, etc.).
We hebben een flink aantal onderwerpen op de plank klaar liggen, van numeriek modelleren tot en met water systeem analyse en monitoring, of een combi. Neem contact met ons, of met de desbetreffende studenten. Tot hoors!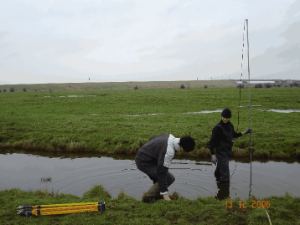 Enkele onderwerpen:
info: gualbert dot oudeessink at deltares dot nl
Afstudeeronderwerpen sinds 2005:
2020
2019
2018
Lars Geitenbeek, Utrecht University, Saline groundwater extraction as a measure to increase the freshwater availability; A case study for the western parts of the Netherlands
Hendrikx, N., Utrecht University, Identifying the most important factors that determine fresh groundwater availability in deltaic areas
Hugo Hagendoorn, Delft University of Technology, Measuring and modelling to optimise a salinity monitoring network for use in the optimal control of flushing: Case study: Lissertocht catchment
Colin Mainz, University of Aachen, Germany, Variable-density groundwater flow and coupled salt transport models of the Chao Phraya Delta, Thailand
Tobias Mulder, Utrecht University, Constructing 3D variable-density groundwater flow models for six deltas using global data sets


2015
2014
2013
2012
2010
2008
Tommaso Letterio, Uni of Firenze, Italy
2007
Bas de Veen en Sjors Stevens, VU, Meetcampagne regenwaterlenzen in de Provincie Zeeland
Corne Prevo, Hogeschool Zeeland, Aquatische Ecotechnologie: Regenwaterlenzen binnen de Provincie Zeeland
Francesco Sergi, La Sapienza, Roma, Italy, Salinisation processes in the Province of Zeeland, the Netherlands, bijdrage aan Near Surface Geophysics, 401-412, 2007
Marian Koskamp, WUR, Modelstudie naar chlorideconcentratie in bodemvocht en ondiep grondwater in een zout kwelsysteem, conceptverslag
Valentina Marconi, Uni of Bologna, Italy, Characterization of shallow fresh groundwater lenses in the Province of Zeeland with 2D geo-electrical surveys
Vesna Tripkovics, UNESCO-IHE, Salt water intrusion in The Province of Zeeland, the Netherlands - water system analysis and numerical modeling
2006
2005
Beatrice Giambastiani, Uni of Bolgona, Italy, Saltwater intrusion and water management in the unconfined coastal aquifer of Ravenna (Italy): a numerical model J. Hydrol. 340, 1-2, 91-104, 2007.