...
*If wanting to use the config manager use line: nl.wldelft.fews.configmanagement.ConfigManagementApplication or for the launcher use nl.wldelft.fews.launcher.Launcher
How to launch Delft-FEWS using the launch menu
Organisations which have multiple instances of Delft-FEWS (for example multiple regions or online/shadow type systems) may wish to use the Delft-FEWS launcher.
You must create a folder in the root directory (same level as the bin and jre) which will contain the launcher configuration files (called for example FEWSLauncher). You will need to have an executable and jpif in the bin directory - you start the launcher by double clicking on the executable. But first we need to set up the launcher config files...
Firstly you can configure the password protected level of access required.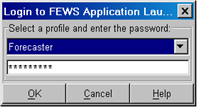 Image Removed
 This is done through a file 
Please note that this is not a highly secure method of password protection but is meant simply to restrict access to those who require it.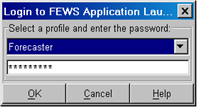 Image Added
This done using the security.xml file. The passwords are contained in the binary security.sec file.
Once you have entered the correct password you will be shown the appropriate screen from which you can choose the FEWS appplication you wish to launch.