...
There are a number of options when configuring the launch of your Delft-FEWS application. The most simple is to double click on the appropriate executable in the bin directory Ee.g. C:\FEWS\bin\Your_Region.exe - this will launch FEWS directly.
...
Organisations which have multiple instances of Delft-FEWS (for example multiple regions or online/shadow type systems) may wish to use the Delft-FEWS launcher.
Firstly you can configure the password protected level of access required.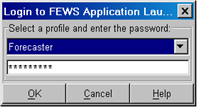 Image Added
 This is done through a file 





Image Added