Rise and Fall: strategies for the subsiding and urbanising Mekong Delta (Vietnam) facing increasing salt water intrusion
News: 
Workshop Can Tho, Vietnam, March 2017
WalkTEM field campaign salinity mapping Soc Trang Province
Project: September 2014 - Augustus 2018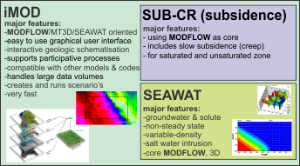 This project aims to enhance the capabilities of individuals and organisations to develop sustainable strategies for dealing with groundwater extraction, land subsidence and salt water intrusion in the increasingly urbanising Mekong Delta (Vietnam). We will enlarge the knowledge base of stakeholders (including policy makers, water managers and scientists) and work with them to develop and implement innovative tools and technologies in practice and policy. A new integrated delta model will be developed, linking surface water, groundwater and geo-mechanical models, to analyse the interrelated character of groundwater extraction, subsidence levels and salt water intrusion. Together with stakeholders the new and comprehensive model will be constructed and applied to quantify the effects of water management strategies in the Mekong Delta. Stakeholders will analyse and develop adequate strategies by simulating and demonstrating the effects of development scenarios and policy recommendations, such as expressed in the Mekong Delta Plan (2013).
See also: website Vietnam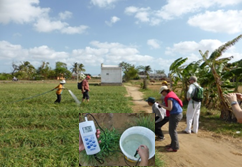 More Information:
Dr.ir. Gualbert Oude Essink, +31 (0)6 30550408, gualbert dot oudeessink at deltares dot nl
Dr. Gilles Erkens, gilles dot erkens at deltares dot nl
Dr. Henriette Otter, henriette dot otter at deltares dot nl